SPCK Bookshop
A Brief History of the SPCK Bookshop building in Exeter, England.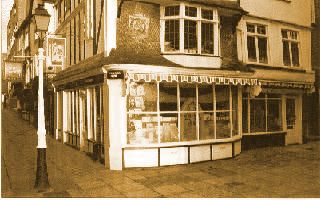 The building on the corner of St Martins Lane and Catherine Street overlooks the famous Exeter Cathedral. Narrowly missed by German bombs in World War 2, and having survived earlier crises such as the Civil War, it remains standing as an interesting example of fifteenth century architecture.
The History of the building.
---
A little history of some of the fascinating buildings in the immediate area.
---
Acknowledgements.
Exploring Exeter, The Heart of the City by Jean Maun. ISBN: 1 899073 39 6
The Great Little Exeter Book, A General Guide by Chips Barber. ISBN: 0 946651 97 3
A document entitled "A History of the S.P.C.K. Bookshop, Exeter" written by W G Hoskins has been a useful source of information for this web site.
---
Webmaster: David Ching
lorax@eclipse.co.uk
2002